Die Geschichte "Blessing in Disquise" - wurde in der 10ten Ausgabe von BACKLINE Photo & Story Magazine publiziert. Fotografiert von Max Kroneck & Joi Hoffmann, Text ist von Max Kroneck.
The Story "Blessing in Disquise" - is published in the 10th issue of BACKLINE Photo & Story Magazine, photo by Max Kroneck & Joi Hoffmann, Text by Max Kroneck.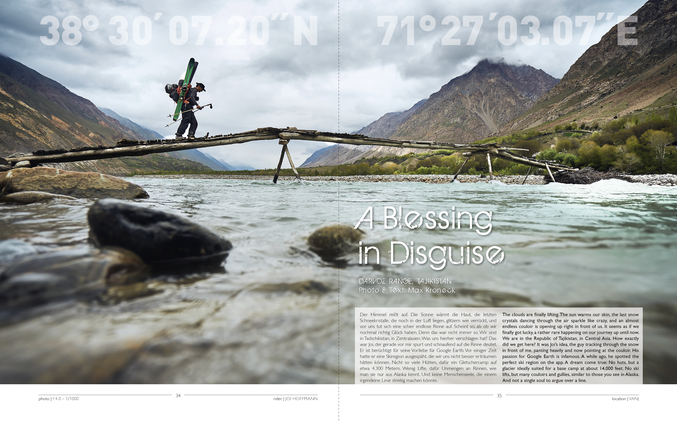 Max schreibt:
Der Himmel reißt auf. Die Sonne wärmt die Haut, die letzten Schneekristalle, die noch in der Luft liegen, glitzern wie verrückt, und vor uns tut sich eine schier endlose Rinne auf. Scheint so, als ob wir nochmal richtig Glück haben. Denn das war nicht immer so. Wir sind in Tadschikistan, in Zentralasien. Was uns hierher verschlagen hat? Das war Joi, der gerade vor mir spurt und schnaufend auf die Rinne deutet. Er ist berüchtigt für seine Vorliebe für Google Earth. Vor einiger Zeit hatte er eine Skiregion ausgespäht, die wir uns nicht besser erträumen hätten können. Nicht so viele Hütten, dafür ein Gletschercamp auf etwa 4.300 Metern. Wenig Lifte, dafür Unmengen an Rinnen, wie man sie nur aus Alaska kennt. Und keine Menschenseele, die einem irgendeine Linie streitig machen könnte.
Max writes:
The clouds are finally lifting. The sun warms our skin, the last snow crystals dancing through the air sparkle like crazy, and an almost endless couloir is opening up right in front of us. It seems as if we finally got lucky, a rather rare happening on our journey up until now. We are in the Republic of Tajikistan, in Central Asia. How exactly did we get here? It was Joi's idea, the guy tracking through the snow in front of me, panting heavily and now pointing at the couloir. His passion for Google Earth is infamous.
A while ago, he spotted the perfect ski region on the app. A dream come true: No huts, but a glacier ideally suited for a base camp at about 14,000 feet. No ski lifts, but many couloirs and gullies, similar to those you see in Alaska. And not a single soul to argue over a line.
---
BACKLINE Photo & Story Magazine 2020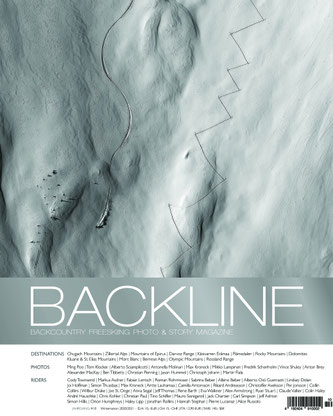 10 JAHRE BACKLINE!
Das Jubiläumsmagazin - 10te Ausgabe von BACKLINE Photo & Story Magazine - kann ab sofort bestellt werden und wird Anfang Dezember versendet werden. Automatisch dabei BACKLINE Gear Review Magazine 2020 im Paket zum Preis von Euro 10,-.
10 YEARS BACKLINE
The 10th issue of BACKLINE Photo & Story Magazine can be ordered now. Will be mailed to you at the beginning of December 2020 together with the BACKLINE Gear Review Magazine, all for 10 Euros.
BACKLINE Gear Review Magazine 2020