Die Geschichte "It is What It is" - wurde in der 10ten Ausgabe von BACKLINE Photo & Story Magazine publiziert. Fotografiert und geschrieben von Anton Brey.
The Story "It is What It is" - is published in the 10th issue of BACKLINE Photo & Story Magazine, photo & text is by Anton Brey.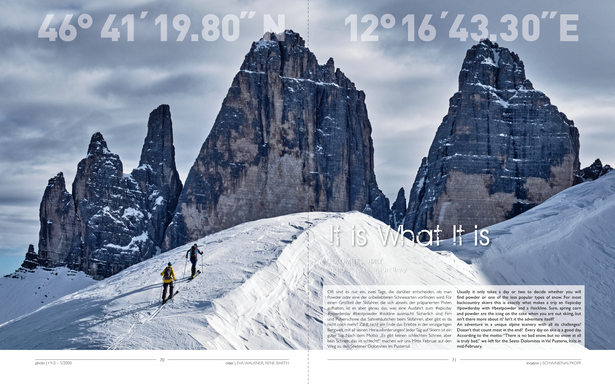 Anton schreibt:
Oft sind es nur ein, zwei Tage, die darüber entscheiden, ob man Powder oder eine der unbeliebteren Schneearten vorfinden wird. Für einen Großteil der Skifahrer, die sich abseits der präparierten Pisten aufhalten, ist es aber genau das, was eine Ausfahrt zum #epicday #powderday #bestpowder #sickline ausmacht. Sicherlich sind Firn und Pulverschnee das Sahnehäubchen beim Skifahren, aber gibt es da nicht noch mehr? Zählt nicht am Ende das Erlebte in der einzigartigen Bergwelt, mit all seinen Herausforderungen? Jeder Tag auf Skiern ist ein guter Tag. Nach dem Motto: "Es gibt keinen schlechten Schnee, aber kein Schnee, das ist schlecht!" machen wir uns Mitte Februar auf den Weg zu den Sextener Dolomiten im Pustertal. 
Anton writes:
Usually it only takes a day or two to decide whether you will find powder or one of the less popular types of snow. For most backcountry skiers this is exactly what makes a trip an #epicday #powderday with #bestpowder and a #sickline. Sure, spring corn and powder are the icing on the cake when you are out skiing, but isn't there more about it? Isn't it the adventure itself? An adventure in a unique alpine scenery with all its challenges?
Doesn't that count most in the end? Every day on skis is a good day. According to the motto: "There is no bad snow, but no snow at all is truly bad," we left for the Sesto Dolomites in Val Pusteria, Italy, in mid-February.
---
BACKLINE Photo & Story Magazine 2020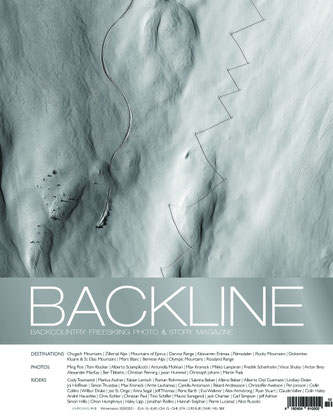 10 JAHRE BACKLINE!
Das Jubiläumsmagazin - 10te Ausgabe von BACKLINE Photo & Story Magazine - kann ab sofort bestellt werden und wird Anfang Dezember versendet werden. Automatisch dabei BACKLINE Gear Review Magazine 2020 im Paket zum Preis von Euro 10,-.
10 YEARS BACKLINE
The 10th issue of BACKLINE Photo & Story Magazine can be ordered now. Will be mailed to you at the beginning of December 2020 together with the BACKLINE Gear Review Magazine, all for 10 Euros.
BACKLINE Gear Review Magazine 2020