Die jüngste Folge von Salomon TV, The WURL, zeigt die Salomon-FreeskierInnen Mali Noyes und Lani Bruntz beim Skifahren in einer 58 km langen, zusammenhängenden Bergkette in den Wasatch Mountains in Utah, USA. Die Tour, die so zuvor noch nie realisiert wurde, dauerte vier Tage und drei Nächte.
---
BACKLINE Photo & Story Magazine 2020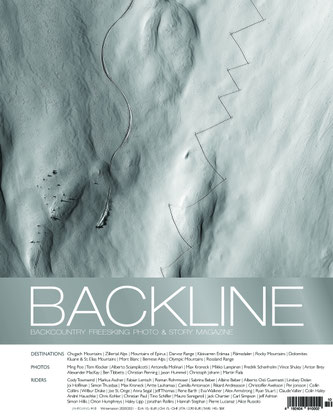 10 JAHRE BACKLINE!
Das Jubiläumsmagazin - 10te Ausgabe von BACKLINE Photo & Story Magazine - kann ab sofort bestellt werden und wird Anfang Dezember versendet werden. Automatisch dabei BACKLINE Gear Review Magazine 2020 im Paket zum Preis von Euro 10,-.
10 YEARS BACKLINE
The 10th issue of BACKLINE Photo & Story Magazine can be ordered now. Will be mailed to you at the beginning of December 2020 together with the BACKLINE Gear Review Magazine, all for 10 Euros.