Die Geschichte "Lost and Found" - wurde in der 10ten Ausgabe von BACKLINE Photo & Story Magazine publiziert. Fotografiert von Alex MacKay, Text von Ryan Stuart.
The Story "Lost and Found" - is published in the 10th issue of BACKLINE Photo & Story Magazine, photo by Alex MacKay, text by Ryan Stuart.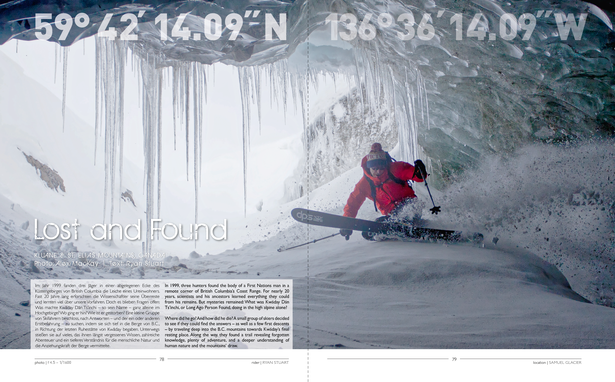 Ryan schreibt:
Im Jahr 1999 fanden drei Jäger in einer abgelegenen Ecke des Küstengebirges von British Columbia die Leiche eines Ureinwohners. Fast 20 Jahre lang erforschten die Wissenschaftler seine Überreste und lernten viel über unsere Vorfahren. Doch es blieben Fragen offen: Was machte Kwäday Dän Ts'ìnchi – so sein Name – ganz alleine im Hochgebirge? Wo ging er hin? Wie ist er gestorben? Eine kleine Gruppe von Skifahrern beschloss, nach Antworten – und der ein oder anderen Erstbefahrung – zu suchen, indem sie sich tief in die Berge von B.C., in Richtung der letzten Ruhestätte von Kwäday begaben. Unterwegs stießen sie auf vieles, das ihnen längst vergessenes Wissen, zahlreiche Abenteuer und ein tieferes Verständnis für die menschliche Natur und die Anziehungskraft der Berge vermittelte.
Ryan writes:
In 1999, three hunters found the body of a First Nations man in a remote corner of British Columbia's Coast Range. For nearly 20 years, scientists and his ancestors learned everything they could from his remains. But mysteries remained: What was Kwäday Dän Ts'ìnchi, or Long Ago Person Found, doing in the high alpine alone? Where did he go? And how did he die?
A small group of skiers decided to see if they could find the answers – as well as a few first descents
– by traveling deep into the B.C. mountains towards Kwäday's final resting place. Along the way, they found a trail revealing forgotten knowledge, plenty of adventure, and a deeper understanding of human nature and the mountains' draw.
---
BACKLINE Photo & Story Magazine 2020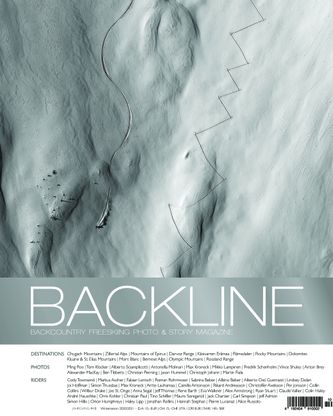 10 JAHRE BACKLINE!
Das Jubiläumsmagazin - 10te Ausgabe von BACKLINE Photo & Story Magazine - kann ab sofort bestellt werden und wird Anfang Dezember versendet werden. Automatisch dabei BACKLINE Gear Review Magazine 2020 im Paket zum Preis von Euro 10,-.
10 YEARS BACKLINE
The 10th issue of BACKLINE Photo & Story Magazine can be ordered now. Will be mailed to you at the beginning of December 2020 together with the BACKLINE Gear Review Magazine, all for 10 Euros.
BACKLINE Gear Review Magazine 2020