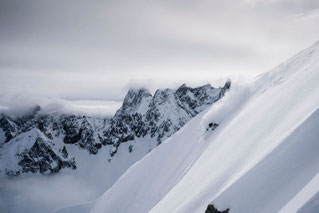 As a third generation Chamonaird, and no formal mountaineering experience in his family, Tof Henry spent his childhood curious of those who skied the surrounding 4000 meter peaks. Soon determined to be the fastest big mountain skier in the world, Tof transitioned all his energy towards skiing. Through the evolution of ski equipment and safety, mentorship by some of the most renowned big mountain skiers of our time, and a heart full of passion and drive, Tof develops an evolutionary vision for skiing the void. Born to the mountains of Chamonix and safety of the valley, Tof is faced with great loss and sadness following the death of mother and transition away from his family. Turning his energy towards his savor mother Aiguille Du Midi and passion for skiing, he brings light and happiness back into his life, and inspiration to pass his experience to his son.
Daniel Rönnbäck - www.daninelronnback.com wrote us:
"I spent 2 years and in total 5 month in Chamonix in the winter, and 3 month editing this project.
Im super stoked on how it turned out. This is a no budget movie production. So far i spent 9000€ from my own saved money to make it happen. Armada has supported to add one filmer when i have not been in Chamonix. 
So i spent 8 month working with no payment at all. For me this is not about money, its about telling a story about the PURE passion for skiing, the evolution of steep skiing and the heritage of Chamonix. A story about a young boy that had everything and lost it all, and true skiing found his way back to life. Raising his son and sharing what he love.
Some things that need to be noted during this film we never used any guides, we didnt get any help or support from Chamonix or any one else, we only used drones and normal cameras to film it. The only helli we used was the lover part that we used it as a tour helli trip. Thats why we missed the upper part because we were not allowed to fly before 12, and they needed to start to ski it before because of the sun and heating temps.
As well Tof skied over 40 different lines in first track powder during this year, just that is impressive in one way.
His ski performance is almost unreal! Its a foot powered movie, built on passion, blood and love.
I hope you like it. And i hope you will help me get it out to some stoked ski loving people.  And if you ever go to Chamonix. Tof will take care of you. And show you his home.
ENJOY and thanks for supporting, sharing and love to skiing."
Happy to show your work Daniel, thanks for sharing!
BACKLINE MAGAZINE 2018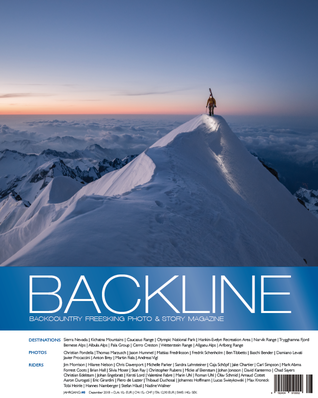 Hochwertiger Druck / High End Print
140 Seiten / 140 pages
14 Geschichten / 14 Stories
1) The Other California – USA by Christian Pondella 
2) In the Middle of Nowhere – USA by Christian Pondella 
3) Georgia on my Mind – Georgia by Thomas Marzusch 
4) Tour of the Gods – USA by Jason Hummel
5) Dreamcatcher – Canada by Mattias Fredriksson 
6) Endless Backcountry – Norway by Mattias Fredriksson
7) Black Mines, Blue Glaciers, White Mountains – Svalbard by Fredrik Schenholm
8) On the Trail of Science – Switzerland by Ben Tibbetts
9) Whiteout – Switzerland by Baschi Bender
10) Only as old as you Feel – Italy by Damiano Levati
11) The Windy Empire – Argentina by Javier Procaccini
12) The Unknown Back of my Hand – Germany by Anton Brey
13) The Good Old Days Story – Austria by Martin Fiala
14) Now or Never – Austria by Andreas Vigl
Skiers 2018: Jim Morrison | Hilaree Nelson I Chris Davenport | Jim Morrison | Michelle Parker I Sandra Lahnsteiner | Caja Schöpf I Jake Chartier | Carl Simpson I Mark Abma | Forrest Coots | Brian Hall | Silvia Moser I Stan Ray | Christopher Rubens I Micke af Ekenstam | Johan Jonsson I David Kantermo | Chad Sayers I Christian Edelstam | Johan Engebratt | Kersti Lord I Valentine Fabre I Marin Uhl | Roman Uhl | Olav Schmid I Arnaud Cottet | Aaron Durogati I Eric Girardini | Piero de Lazzer I Thibaud Duchosal | Johannes Hoffmann I Lucas Swieykowski I Max Kroneck I Tobi Heinle, Hannes Namberger I Nadine Wallner | Stefan Häusl