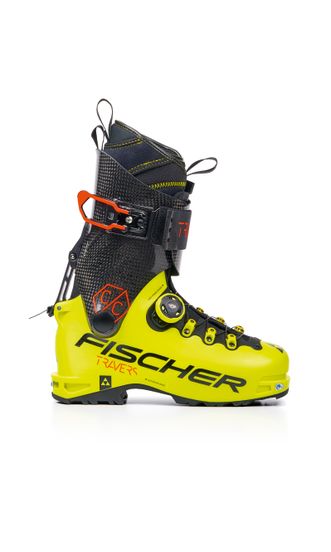 ENGLISH: This ski touring boot's cuff is 100% lightweight carbon for maximum climbing efficiency through its optimal energy transfer. On the descent, carbon offers absolute stability for impressive performance. An Aramid insert in the sole provides the needed torsional rigidity for total control at speed.
The touring-specific cuff construction of the Travers CC allows optimal freedom of movement in Walk mode. A full 80° of forward rotation at the ankle and an overall lightweight construction let skiers make efficient forward progress. Simple-to-adjust Boa® Performance Fit system guarantees a secure, even fit throughout the entire boot to further
enhance performance. 
GERMAN: Der neue Fischer Travers CC kombiniert auf völlig neue Art perfekte Passform mit natürlicher Bewegungsfreiheit und Stabilität und ist so auf alle Anforderungen am Berg vorbereitet. Seine hochwertige Manschette aus 100% Carbon sorgt für maximale Effizienz im Aufstieg und beste Performance in der Abfahrt: Sie ermöglicht eine optimierte Kraftübertragung und macht diesen Tourenskischuh nicht nur extrem leicht, sondern gleichzeitig absolut stabil. Eine im Sohlenbereich eingesetzte Aramid Platte bietet höchste Verwindungssteifigkeit und garantiert dadurch ein kontrolliertes Abfahrtserlebnis. 
Für optimale Bewegungsfreiheit im Walk Modus sorgt die spezielle Manschettenkonstruktion des Travers CC: sie ermöglicht eine besonders hohe Schaftrotation von 80 Grad und bringt uns dem Ziel so noch effizienter näher. Dank seiner Boa® Performance Fit Lösung ermöglicht dieses Leichtgewicht eine ideale Schließkraftverteilung über den ganzen Fuß, die mit nur einem Handgriff mühelos reguliert werden kann.
BACKLINE GEAR TEST 2019